Squirrel House
1/7/2007 9:37:00 PM
By Simbey

Squirrels are one of my favorites when it comes to forest critters. When I lived in Lacey, WA, I spent quite a bit of time watching them from my apartment. Back then, the squirrels gathered around a line of trees where a special feeder hung on a tree for them.

Now that I have a house and some trees in my own back yard, I decided I should help out the resident squirrels and make their lives a little easier by providing them with some shelter. This should encourage them to fill up the surrounding trees and bring plenty of squirrely entertainment to my back yard.


The squirrel house I'm building was inspired from designs I viewed from pages such as Visit the Squirrel House and Build a Squirrel House. The interior of the primary housing is 20 inches tall, so it's a little taller than some of the designs I've seen.

My squirrel house is built out of common 3/4 inch thick shelving boards (somehow we managed to accumulate a bunch of these boards). Eight and a half inches from the top is a shelf to provide the squirrels a landing from the entrance hole. The shelf has a square cut-out section for access to the lower level.

This project has been my first real wood working project. A couple years ago, I helped Danielle build some hinged shelves to stick in the rabbits' cages, but that was mostly drilling holes and screwing in latches and hooks. Now I'm using a jig saw and some kind of saw with a big round blade.

The next part I'm building is the roof. It will use two back-flap hinges to connect to the primary housing unit. The roof will also feature the classic triangular sloped roof, and I'm going to add a plexiglass sun roof in case the squirrels want to warm themselves while basking in the comfort and safety of their home.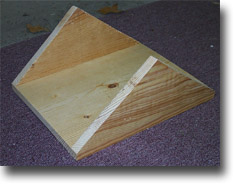 At the tallest point, the interior of the roof section will be five and a half inches. This should be plenty of space for a squirrel to relax in the attic.

My next challenge is to determine how I would like to attach a feeding unit to the house. I am still debating whether to attach a deck such as seen at SquirrelHouse.com, but I think it would be easy to work a feeding unit into a deck.

In any case, I am trying to keep things simple because this is my first wood working project, and I'm still figuring things out. I'll create a separate page for the squirrel house once it's done. With some luck, I'll even be able to post some pictures of squirrels using the house!