10 Trains for Christmas
1/2/2009 11:09:50 AM
By Danielle Gould



Yes! That's right. Included in Nathaniel's loot this year, was TEN trains. That's a lot of "chugga-chugga-chugga"s for the little guy! But, let's rewind a little, back to Nathaniel's first adventure in the snow.

Then it really started to snow… and there was too much to play on the swing set anymore.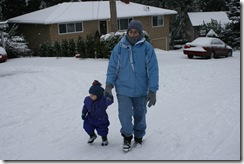 So, we went out and borrowed a sled. Note to self… buy one!
We thoroughly enjoyed Melissa's company for 3 days while the roads were too bad to travel to Shelton.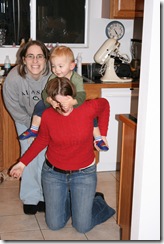 Courtesy of Nathaniel's hands, she'll remain the "faceless" friend.
Then came Christmas Eve!
Nathaniel REALLY did not want Grandma to go…
And then there was Christmas!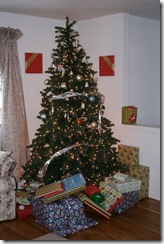 First, Nathaniel removed his presents from under the tree, and piled them in the middle of the room… almost like he thought that the wrapped boxes WERE the toys!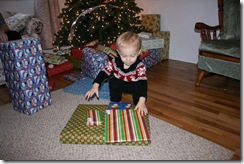 Once he figured out that he was suppose to unwrap them, he handed every piece of torn paper off to someone, and howled "OOoooo" and "AAaawww" between each tear.

After opening a box of Duplos, he was a bit confused, and thought he was suppose to add his other ones to the box, to put them away.

Veacher's thoroughly enjoyed the festivities too. Though we bought her her own new house, she much prefers the tunnel we bought for Nathaniel, and his other toys too… She has spend everyday since Christmas crazily batting Nathaniel's new toys across the hardwood floors like a kitten.

And then there were trains.

An exhausting, but fun, day!


Track Backs: The trackback URL for this entry is:
http://www.simbey.com/viewpage.asp?TrackBack=328